Bamboo Storage Bins, 9" W x 12"L x 6" H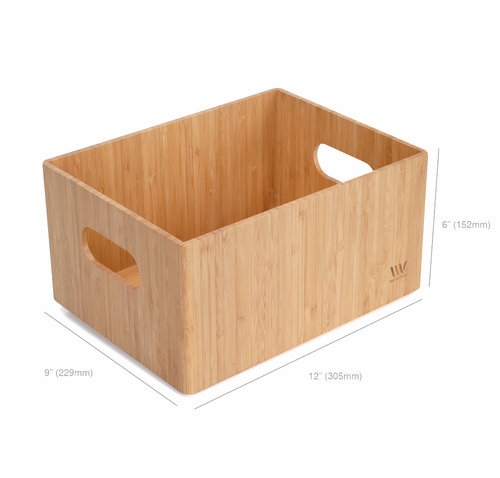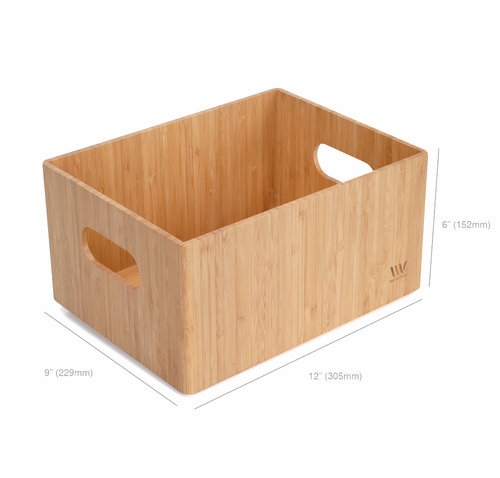 Bamboo Storage Bins, 9" W x 12"L x 6" H
HIGH CAPACITY & MULTI-FUNCTION STORAGE bins made from beautiful high quality bamboo.

Dimensions: 9" W x 12"L x 6" H

STACKABLE STORAGE ORGANIZER - Space-saving and convenient to store your stuff. Light weight and easy to carry. Great for organizing baby clothes, diapers, underwear, socks, toys, albums, games, magazines, comic books, craft supplies

STURDY & STYLISH CARRY ALL BIN - Dual handles make it sturdy and easy for transportation of belongings. Simplicity in design will beautify the baby's nursery, office, craft room, laundry room, kitchen pantry, cube organizer, shelf(s), and closet.

Can also be used as a bathroom bin (Bamboo does not absorb water). Bathroom bin can serve as a decorative solution for keeping small, everyday items in one place. Great for organizing cosmetics, toiletries, towels and other accessories.
MobileVision Bamboo Stackable Storage Boxes/Bins provide a simple and decorative solution to today's office, home, or dorm space and storage needs. A better solution to keep closets, shelves, open space, and tables tidy and organized. This bin can serve as multi-purpose organization vessel with the touch of Eco-friendly Bamboo. Durable construction provides long lasting quality. Dimensions: 9" W x 12"L x 6" H
SKU: 1887BA